Apart from playing solo I have teamed up with other fine musicians.
BAD Pennies
I have teamed up with a bunch of fine musicians to become – Edward Nass and the BAD Pennies. Why the BAD Pennies? We were playing a couple of venues at the Basin Music Festival and a camera man looked at us and said – You again, you turn up like bad pennies. I thought it was a good name. Also, because I am the president of BADFolk (Berwick and District Folk Club) it fits with that as well. So the anagram BAD could be Berwick and District Pennies!
BAD Pennies include Reid Stevens on Bass and backing vocals – what a great voice and Abe Haddad on lead guitar. We play mainly originals and with some covers thrown in as well. The BAD Pennies are ready to play shows.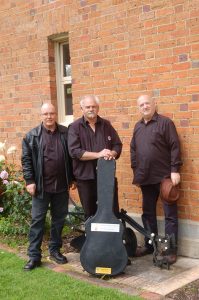 ---
EIIR (Royalty)
Edward and Reid
Edward and Reid Stevens play together as a duo. Rhythm and Bass.
Incorporating the fine harmonies from Reid, we are an entertaining pair still singing my original songs to put a smile on your face.
---