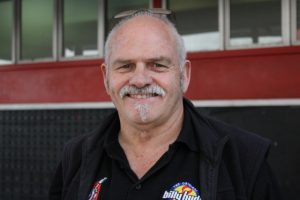 We all like to laugh.
I believe in the entertainment factor of music. Most songs these days are about heartbreak and loss – songs that make you want to cry. I want to make you laugh, dance and sing along, after all life should be fun. I am not discounting serious songs as I have written them also (have a listen to Losing You). My songs are mainly ballads about life.
I bought my first guitar at 17 but was turned off by the teaching methods of the day – you know – here's a scale, learn it. I just wanted to play songs. I dabbled over the years, more off than on. In 2002 my partner suggested we start a music club of our own after traveling to Folk Victoria on a Friday night to listen to live music, which we loved. From this the Berwick and District Folk Club (Badfolk) was born. This club provided the inspiration to get deeper into music developing song writing skills through work shops and performing.
I took singing lessons to enhance my vocal ability. To those who helped me on the way – you know who you are, thank you.
This journey has resulted in the release of my debut CD, 'Memories and Other Tales' in 2012.
This has been followed by my second CD, 'Doing Nothing', 2014. My third, Facebook Friends, has now been released.
I like most types of music. Favourite artists include blues players like Tony Joe White, and BB King. I like country music like Johnny Cash and others.
Rock is also a favourite. Players like Johnny Rivers, Dion, Bob Seeger, Eagles and even a bit of heavy metal like Led Zeppelin.
Who could not like Bob Dylan songs? From this you can see my main love is for music from the 50's to the 70's.
I love the sharing and community aspect of music.